Maharaja Ranjit Singh, more popularly known as 'the Lion of Punjab' was not only a great son of Punjab but was also among the few leading figures of the history of that period. The deeds of Maharaja Ranjit Singh will remain as permanent marks in the annals of sikh history.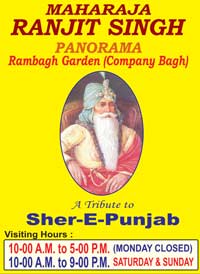 Maharaja Ranjit Singh Panorama is a permanent visual documentation of Maharaja Ranjit Singh and it has been conceptualized and set up by National Council of Science Museums, an autonomous organization of the Ministry of Culture, Government of India. The sprawling 4.5 acres of land in the historic Rambagh Heritage Garden at the heart of the holy city of Amritsar has been made available for developing the panorama by the Government of Punjab, whereas the entire cost of setting up of the panorama has been borne by the Government of India. An aesthetically designed tall cylindrical building surrounded with green garden near Summer Palace of Maharaja in the Rambagh Heritage Garden is now a landmark in the city of Amritsar.
The main attraction of the panorama is a gigantic 12 meters tall and 100 meters long panoramic painting depicting six major battle expeditions of the Maharaja. The battle expeditions depicted in the painting are supplemented by large circular foreground diorama displaying numerous mannequins of prominent warriors, soldiers, animals, weapons and so on. A specially designed creative illumination of the large painting and the foreground diorama, supported by battle-field sound effects at the background enhance the level of the experience of the viewers.
The Maharaja's Grand Durbar at Lahore has been recreated in the panorama hall through a large three-dimensional dioramic presentation where Maharaja is seen with his chiefs, nobles and also the poor and destitute. The other landmarks in the vibrant life span of the Maharaja have been presented through eight smaller dioramas in the ground floor halls. Several other important anecdotes associated with Maharaja, which have immortalized him, are also presented in the panorama building through murals, sketches and canvas paintings. The interactive touch screen multimedia kiosks placed in the panorama provide detailed information of the subject to the visitors.